SUSAN ZIRINSKY – EXECUTIVE PRODUCER, 48 HOURS SEASON PREMIERE
48 HOURS: PARADISE LOST – Saturday, September 27, 10 PM ET/PT
A Costa Rican paradise turns into a house of horror. How did a Wall Street millionaire end up shot dead in his bedroom?
"PARADISE LOST" - A brilliant, but troubled, wealthy American and his beautiful, but equally troubled, American wife built a lavish home and wildlife preserve in the jungles of Costa Rica. After making over $90 million dollars on Wall Street, John Bender relocated to Central America. He and his wife Ann used their immense wealth to buy 5,000 acres in the jungle; build a house that James Bond would find intriguing. But they also created an animal reserve on their property and with the help of a local attorney, set up a trust to manage their money. They had exotic tastes, and collected over 550 Tiffany lamps to illuminate their jungle home. They also transferred some of their money into precious gems.
Not surprisingly, their wealth and high profile made them a target for angry locals. Aside from the Benders love of nature – they shared an illness, he suffered from depression, his wife Ann Bi- polar. They lived what was to be an idyllic life for almost a decade but between suspicions by the Costa Ricans, financial issues at home and their self-imposed isolation… they became paranoid. Arming their own security force to protect them – each sunk deeper into depression.
When John Bender's life came to an end with a single gunshot wound, investigators had to determine whether he, who had attempted suicide before, finally took his own life, or whether he died at the hands of his wife Ann. Ann Bender would face not one… but two trials. Ann has been battling on a third front as well. The fortune that she and John accumulated has been decimated by an unscrupulous attorney.
After hearing testimony and reviewing evidence, a panel of three judges ruled there was insufficient evidence to convict Ann of murdering her husband, John. That should have been the end of the story, but the laws in Costa Rica are not like the laws in the United States. It's not just the defense that has the right to appeal convictions; the prosecution can, too, if they are not satisfied with the verdict. Ann Bender could have left Costa Rica but she didn't. And with no double jeopardy… prosecutors brought Ann to trial a second time for the murder of her husband.
48 Hours explores the fascinating case with our own team of forensic experts and full access to the house and the bedroom where the alleged murder occurred. Their results are astonishing.
NIALL GIBBONS & PASCHAL DONOHOE FROM TOURISM IRELAND - IRISH CULTURE AND CUISINE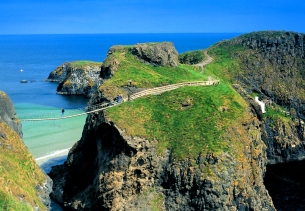 The launch of Ifest Boston runs September 26th – 28th at the Seaport World Trade Center in Boston.
Ifest is being billed as the ultimate Irish party bursting with music, Irish cuisine, entertainment & laughter. Don't miss this exhilarating celebration of modern Ireland.
The Minister carries with him an important message about an Irish tourism industry and an Irish economy that have come through some challenging times but both are now well positioned to move forward with confidence into the future.
WWW.IRELAND.COM
CHECK OUT BERTOLLI'S NEW ITALIAN STYLE TORTA!
A fresh twist on a classic recipe, Bertolli's new Italian Style Torta is a delicious, hearty meal to satisfy your craving for Italian. Each Torta is filled with premium ricotta cheese, kettle-cooked marinara sauce, and Italian herbs and spices, all stuffed between two layers of flakey, buttery crust. Baked to perfection in Bertolli's unique tray, the Torta delivers crisp, oven baked flavors straight from the microwave in just minutes. Bertolli Italian Style Tortas sell for $2.99 and can be found in your grocer's frozen meals section. Bertolli Italian Style Tortas are available in two delicious varieties, three Cheese Marinara and Italian Sausage. Go to
www.VillaBertolli.com
for more info
STEVE EVANS - "THE MOVIE GUY"
GREAT MOVIES OPENING THIS WEEKEND AND BOX OFFICE PREDICTIONS AND HOPES. FIND OUT WHAT MOVIES ARE WORTH YOUR HARD EARNED MONEY. GET SET FOR THE WEEKEND.