MARCO TURELLI - CREATIVE DIRECTOR FOR WINE ENTHUSIAST MAGAZINE
Wine Enthusiast Magazine tastes, rates and reviews wines, spirits and beers for publication in our magazine and Web site.
The newly redesigned Wine Enthusiast Magazine is back this month with even more lifestyle coverage! The April issue covers a variety of epicurean adventures from highlighting the golden age of classic chianti to a breakdown of trending party savers to the "Recipe of the Month: Banh Mi" and even a piece on the salty side of cocktails. This issue further showcases the publication's dedication to its FRESH and lifestyle focused revamp.
The new Wine Enthusiast (winemag.com) now delivers the best of epicurean culture through engaging and compelling content that is entertaining and "of the moment." The new, fresh look better reflects the audience of contemporary wine drinkers while continuing to provide insights readers won't find anywhere else. We are thrilled to continue to spread the word on this outlet's cover-to cover revamp!
www.winemag.com
GALE GAND – AWARD WINNING CHEF TV PERSONALITY & AUTHOR - GALE GAND'S LUNCH COOKBOOK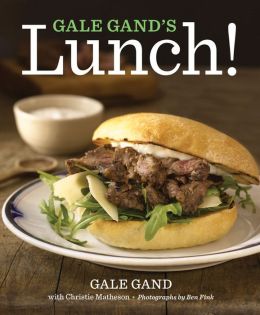 This book offers plenty of fun and creative ideas for making lunch the new dinner; with an array of simple recipes for lunchtime snacks, pastas, salads, sandwiches, soups and more.
Gale Gand is a James Beard Award–winning chef, cooking teacher, cofounder of the world-renowned restaurant TRU in Chicago, the former host of Sweet Dreams, a long-running Food Network baking show, a mom of three, and an expert lunch packer. She has appeared on Iron Chef America, Baking with Julia, and Oprah, and served as a judge on Bravo's Top Chef Just Desserts. She is the author of seven previous cookbooks, including Gale Gand's Brunch!, Gale Gand's Just a Bite, and Chocolate and Vanilla. She also has her own root beer company and has recently opened a new restaurant, Spritz Burger, featuring bubbles (sodas), burgers, and brunch.
www.galegand.com