CARLA HALL – AUTHOR, CARLA'S COMFORT FOODS: FAVORITE DISHES FROM AROUND THE WORLD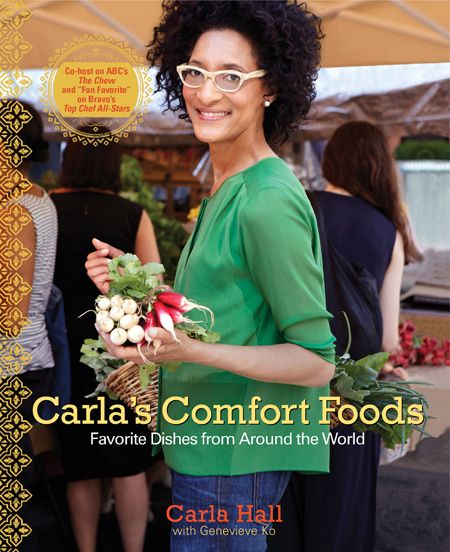 Carla Hall - CARLA'S COMFORT FOODS: Favorite Dishes from Around the World by Top Chef & The Chew's popular TV host Carla Hall (Atria Books, $29.99, April 1, 2014). Featuring 130 recipes with new variations on soulful favorites, this cookbook covers the culinary globe on an ingenious, delicious mission: to capture the international flavors of comfort.
Comfort food is universal. It's also delicious, particularly when cooked up by The Chew co-host and Top Chef fan favorite Carla Hall. With a flair for classic American comfort food, especially from the South, Carla brings her quirky and fun-loving style to every recipe.
In Cooking with Carla, you'll find a mouthwatering variety of foods from around the world. Each section covers a cooking technique or main ingredient and then follows with international variations. Stove-top chicken starts with Carla's classic recipe for Southern Chicken with Milk Gravy. Then you'll learn to make French Chicken in Dijon Cream as well as West African Spicy-Sweet Stew; following Southern Grits, there's Italian Polenta and Jamaican Breakfast Porridge; and next to Italian-American Lasagna, you'll find recipes
ABOUT: Carla Hall is a co-host of ABC's popular lifestyle series "The Chew," seated alongside restaurateurs and "Iron Chef America" stars Mario Batali and Michael Symon, entertaining expert Clinton Kelly and health and wellness enthusiast Daphne Oz. Hall is best known as a competitor on Bravo's "Top Chef," where she won over audiences with her fun catch phrase, "Hootie Hoo" and her philosophy to always cook with love. Hall is the owner of Carla Hall Petite Cookies, an artisan cookie company that specializes in creating sweet and savory "petite bites of love." Her approach to cooking blends her classic French training and Southern upbringing for a twist on traditional favorites. She is committed to health and balance in everyday living. Her newest cookbook, Carla's Comfort Food: Favorite Dishes from Around the World will be published March 25, 2014, and her first cookbook, Cooking with Love: Comfort Food That Hugs You, was published in November 2012 and recently re-released in paperback.
A native of Nashville, TN, Hall received a degree in Accounting from Howard University, but traveling through Europe awakened her passion for food and inspired a new career path. She attended L'Academie de Cuisine in Maryland where she completed her culinary training, going on to work as a Sous Chef at the Henley Park Hotel in Washington, DC. She also served as Executive Chef at both The State Plaza Hotel and The Washington Club, and has taught classes at CulinAerie, Sur la Table and her alma mater, L'Academie de Cuisine. Hall is a true believer that, "If you're not in a good mood, the only thing you should make is a reservation." She lives in Washington, DC with her husband, Matthew Lyons, and stepson Noah.
carlahall.com
SUSAN ZIRINSKY - EXECUTIVE PRODUCER, "48 HOURS: WOUNDED BY LOVE" APRIL 5, 2014, 10:00 PM ET/PT
A LOVER IS SHOT DEAD – IS A CELL PHONE VIDEO RECORDED IN THE AFTERMATH ENOUGH TO CLEAR OR CONVICT?
A lover is shot dead. Police record a cell phone video in the aftermath. But will the grainy footage be enough to clear or convict a girlfriend? Troy Roberts and 48 HOURS investigate the death of Phillip Peatross and what happened in the bedroom of his girlfriend, Caryn Kelley, in "Wounded by Love" to be broadcast April 5, 2014 (10:00 PM ET/PT) on the CBS Television Network.
The story unfolds in Kelley's Orlando, Fla., home, in the dark, early morning hours after a night where the couple has been drinking. It's a case that involves broken hearts, bombshell secrets and a controversial cell phone video shot by police moments after the death of Peatross.
"I jumped out of bed, grabbed the gun, and heard footsteps coming down the hallway toward my bedroom," Kelley tells Roberts as she recounts that fateful night. "The gun was cocked because I didn't know who it was, because I felt like it was an intruder."
Kelley told police she then realized the 'intruder' was actually her boyfriend, Peatross. Kelley became the only living witness to what happened next. Kelley says there was a struggle for her gun. "And he told me twice, 'I'm not gonna live my life without you.' And he shot himself," she tells Roberts.
The police had to sort out three scenarios – either Peatross' death was an accident, suicide or murder. "There's no way that he would have ever killed himself," says Peatross' previous girlfriend, Tamara Lawton. "He wouldn't leave his children. He loved those girls, loved them like I've not probably seen in any father."
Police were leery of Kelley's story. They interviewed her on cell phone video immediately following the shooting. That video became important to the case when police claim she changed her version of what happened that night a couple of times in later interviews. Famed Orlando chief medical examiner and reality show star Dr. Jan Garavaglia also had doubts about Kelley's version of events.
"If you point a loaded gun at somebody or bring a loaded gun out into the argument, and that gun goes off and kills somebody, that's not an accident," Garavaglia tells 48 HOURS. "That's a homicide." Kelley was arrested and charged with Peatross' murder. But could prosecutors use what they say are Kelley's different versions of the night Peatross died - along with Garavaglia's autopsy findings - to build their case and get a conviction?
Roberts and the 48 HOURS team tell the story through interviews with Kelley, her attorney Diana Tennis, Dr. Garavaglia, Peatross' friends and trial testimony. 48 HOURS: "Wounded by Love" is produced by Paul LaRosa and Michele Feuer. Alicia Tejada is the field producer. Anthony Batson is the senior broadcast producer. Susan Zirinsky is the senior executive producer. Chat with members of the 48 HOURS team during the broadcast on Twitter and Facebook.
STEVE EVANS - "THE MOVIE GUY"
GREAT MOVIES OPENING THIS WEEKEND AND BOX OFFICE PREDICTIONS AND HOPES. FIND OUT WHAT MOVIES ARE WORTH YOUR HARD EARNED MONEY. GET SET FOR THE WEEKEND.