RICK MAYNARD & DR. DAVID SOLOT - KFC
Its the meal that inspired the signature routine for one of America¡¦s most famous comedians. (Youre welcome, Patton Oswalt.) The dish was described by a national food writer as ¡§the kitchen sink of KFC goodies, a little of a lot of things, all smushed together in a big, action-packed portable bowl.¨
Seven years after its debut, the Famous Bowl remains one of the most talked-about dishes to ever appear on a KFC menu. (It doesnt generate quite as much conversation as the legendary Double DownR, but then again, few topics do.) So why the fascination with the Famous Bowl?
Sure, crispy chicken, corn, mashed potatoes, gravy and cheese taste great separately. But put those same foods in a bowl and you¡¦ve got yourself a dish that creates a great debate: Should foods touch or not?
Turns out, that simple question inspires some very passionate responses, both yea and nay,¨ said Kevin Hochman, Chief Marketing Officer for KFC U.S. We recently surveyed Americans and found that 57 percent are okay with having at least some of their foods touch. To those folks we say, thanks,¨ and this Famous Bowl is designed especially for you.¨
While more than half of Americans said having foods mixed together was just fine with them, a third said they want to keep foods in their proper places on the plate and eight percent confessed to wanting each food on a separate plate. To dig a bit deeper into this touchy question, KFC enlisted Dr. David Solot, an authority on eating habits with a Ph. D. in organizational psychology.
People who are okay with their foods touching are more likely to be risk takers,¨ Dr. Solot said. They dont feel the need to precisely control their eating experience, and are more comfortable letting go and enjoying whatever may come.¨
Dr. Solot added that fans of dishes like the Famous Bowl are ¡§more likely to enjoy trying new things, which suggests they are laid back and willing to go with the flow.¨ To learn more about KFCs survey of American eaters and to hear more from Dr. Solot, visit the KFC Facebook page.
KFC.COM
SABRINA LOPICCOLO - STONE BREWING CO. - MAKING ITS YEARLY DEBUT: 2014 STONE OLD GUARDIAN BARLEY WINE RELEASED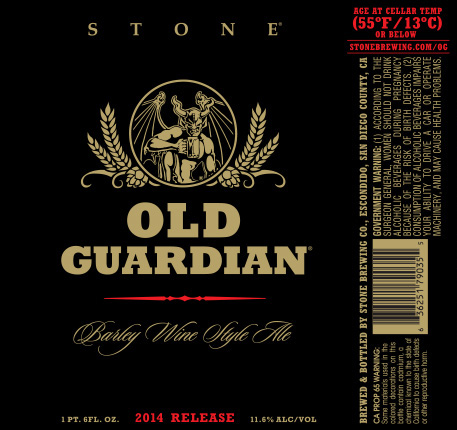 Stone Brewing Co. is celebrating the release of its big, malty, fiercely hopped strong ale: 2014 Stone Old Guardian Barley Wine. Beginning today, eager consumers and collectors may pick up a bottle of this annual release at retailers in select markets across the country.
Stone Old Guardian Barley Wine is a brawny beer with a rich malt backbone and assertive New World hop profile. The beer pours a burnt amber color with strong citrus and tropical fruit aromas. Its flavor is rich and malty, displaying hints of molasses and brown sugar up front, with apricot and pine notes in the finish.
"Each year, the beer's recipe is slightly adjusted to allow us to play with different malt and hop varieties," explains Stone Brewmaster Mitch Steele. "All in all, I aim for the same end result: a well-rounded, complex beer that's ready to drink now or age at cellar temperatures for many years."
Fans may enjoy 2014 Stone Old Guardian Barley Wine now, or properly store it to enjoy in the future. Over time, the hoppiness of the beer will fade and its initial sweetness will smooth out, transforming the beer into a much different, even richer and more refined brew.
www.stonebrew.com